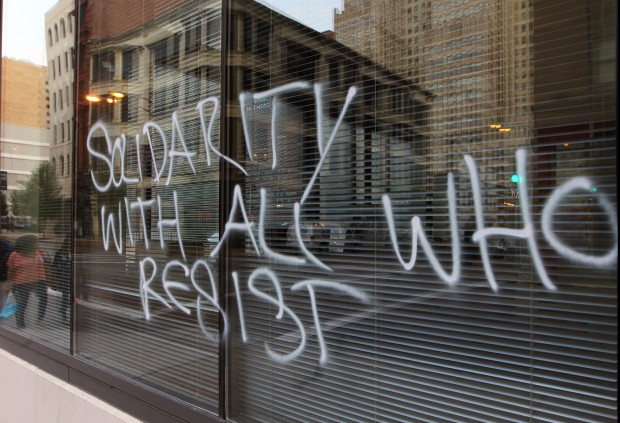 From: Kansas City ABC
On October 13th 2013, we received word that nine people in Potosi MO Corrections went on hunger strike. The start date is unclear but we now know the hunger strike lasted three weeks, ending on Oct 20th 2013. Below is the transcript of a letter dated Jan 8 2014 from Shyheim D. El-Mumin.
Shyheim D. El-Mumin (509071)
11593 State Highway O
Mineral Point, MO, 63660
"Salutation! I'm in receipt of your letter dated 12/26/13 today. It seems that the administrators seem to delay the delivery of it to me at their convenience. How ever it is always a blessing to hear from loved ones and friends.
Hi are you doing? fine I hope. I pray that this letter finds you and yours in the best of health and spirit. As for my self, I remain steadfast in the struggle. Every day it's a battle, and I strive to over come it all physically, mentally, and spiritually.
To bring you up to date concerning the conditions here at P.C.C. well, we ended our hunger strike on Oct. 20, 2013. After striking for three weeks of all those who participated in the strike only a few of of us remained on it until the last day. Others continue their support by writing letters, and remaining vigilant through out the ordeal. However the struggle continues, we manage to achieve getting the housing unit cleaned up on a daily basis, those who needed to see the doctor received doctor visits.
We also accomplished getting several roguish officers removed from this housing unit, others placed on a shift where they'll be closely monitored and one was transferred to work at another institution.
But as I stated before, the struggle continues. The oppressors are not formidable to me our biggest struggle is trying to organize and mobilize these prisoners to stand up and challenge the conditions of their confinement. I believe that we are our biggest problem and only we can truly liberate us and resolve our many issues through unity and solidarity.
I know that if these guys will just show a little unity and solidarity the many issues that we commonly haul can easily be resolved.
So I stay speaking and demonstrating truth to power amongst my fellow prisoners and I try to share what ever informative material I have that will enlighten them. Because if we know better we'll do better.
My being a prisoner's advocate I'm a constant target for these corrupt officers and administrators. So, I cherish all the outside support that provided to me because the struggle can become very lonely at times. How ever, I keep on keeping on.
My main issue at the moment is trying to get adequate and proper medical care. I am a diabetic and several nurses hare at P.C.C. who holds malicious feelings towards me for filing on staff (C.O.s) who are linked to them romantically. These nurses all have been refusing me my medication, as a way to retaliate against me. I've written several grievances, and letters to C.M.S. (Corizen) contract monitor in central office, to no avail. So, I document it and remain vigilant and proactive in my health care.On Dec. 4, 2013 to Dec. 10, 2013 I was hospitalized as a result of the formention Nurses depriving me of my insulin.
They've made several threats towards me about my insulin therefore Im very cautious taking medication form them. They refuse to follow the policy concerning the perpetration and administration of medication – which clearly states that insulin dependent patients are to be present when medical staff prepares insulin. They neglect to allow this.
Other than that I'm remaining focus on bettering my self as a person and preparing my self to re-enter society. Yes, I can get out of prison with the next couple years, therefore, my rehabilitation is very important, but being in such conditions as we are. We are being denied the tools/programs and environment to do so. So I fight for my rights!
I deeply appreciate your concern and support. It is much needed. Tell **** I appreciate [their] letter as well and that I extend my regards.
For as the deposit slip you ask that I send. Right now, I'm in much need of financial support, but I owe the state of missouri (D.O.C.) several thousand dollars for law suits, appeals, court fees, fines, etc. and I'm not trying to have them take what money sent to me only to leave me $5.00 dollars. Im very indigent and I have to make due with $5.00 a month which I spend on hygiene products and writing materials.
I have several law suits in court right now and I have faith that Im going to win. With what I'm compensated I'll pay it off with that.
I need support morally, and since Im a be in solitary confinement for the next year or so, magazines, news papers, and stamps will help me get through. *The only way I can receive stamps is through a legal entity. They stopped outside sources other than "legal mail" to send us stamps. I hope this give you an understanding of my situation and how one can help me other wise.
Once again I appreciate your concern and support. I will like to stay in touch with you guys so feel free to write.
Keep up the fight! And its good to know that we are not alone in here.
Take care in the struggle, love & solidarity. Your brother, Shyheim"