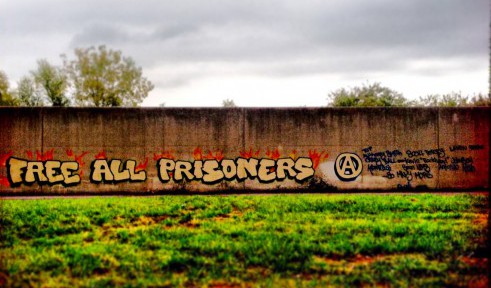 The following is an excerpt from a letter written by Shyheim El-Mumin, a prisoner on hunger strike at Potosi Correctional Center in Potosi, MO. He and at least eight other prisoners began their hunger strike on October 13th. At this point, we are unclear as to whether they are still refusing meals. We will post more information when it is available.  You can find the full text of the letter here.
From The San Francisco Bay View
From Shyheim El-Mumin
I am a prisoner being held captive here in the state of Missouri at the Potosi Correctional Center's Ad-Seg (Administrative Segregation, a form of solitary confinement) unit. Since my arrival here on Aug. 9, 2012, I've been a target for harassment. This is my fourth time here. This is a maximum security prison, Level 5. This is the prison where they house Missouri's death row prisoners. If I'm not mistaken, it is the only place where death row prisoners are allowed in general population. That alone says a lot about this prison.
We [the hunger-strikers] are asking that you all who are reading this contact Missouri Gov. Jay Nixon and Director George A. Lumbardi at (573) 526-6607, P.O. Box 236, Jefferson City, MO 65102, http://www.doc.mo.gov; Warden Troy Steele, (573) 438-6000, 11593 State Hwy O, Mineral Point, MO 63660; as well as the ACLU in St. Louis, Missouri, and ask for John Chasenoff, Civil Rights Division, ACLU Eastern Missouri, 454 Whittier, St. Louis, MO 63108, (314) 652-3111. PCC prisoners are in desperate need of assistance from any and all outside organizations, politicians, agencies, state representatives, officials, media, investigative agencies, etc. Please assist us to make prison officials cease their transgressions and malicious violations of our federally and state-protected rights and cease continuing restrictions of confinement.
The prisoners here are very passive, docile and self-patrolled. Even in the face of harsh racism, abuse and mistreatment, there are literally only a handful of us who dare to challenge the conditions of our confinement. Every time I've been to this prison, I always catch an assault on one of these racist pigs. They are very in-your-face abusive. I try to address my issues through the proper channels, i.e., letters to the warden, grievances etc., to no avail! So I've often had to defend myself physically.
Well, on Sept. 23, 2013, Col. Ross and a new officer – first day on the job – tore my cell apart while I was in a shower. Ross has used "cell searches" as a means to taunt and harass prisoners by confiscating allowed items, tearing family photos and destroying legal materials. He's very confident in his corrupt behavior due to the fact that his immediate supervisor, Correctional Officer II Wilfong, supports such reckless behavior. To make a long story short, I asked to see a supervisor and was denied. I refused to give back the handcuffs. Once a supervisor, COII Wilfong, arrived, I complied with the orders to be cuffed to the bench. While I was on the bench, Col. Ross started using foul, derogatory language towards me. This provoked me into a physical altercation where I had to fight six officers. I held my own. Shit, I'm only 150 pounds, 5 feet 9 inches, but they didn't want to see me head on. Once I was taken down and cuffed – I slipped my cuffs – and leg irons placed on me, I was beaten for like three minutes. I ended up with a busted lip, nose, a bruise under my eye and a fractured rib, and I was denied medical care from a nurse, Samantha Turntine, whose boyfriend was one of the officers I fought. I was then stripped out and placed in an air-conditioned cell naked for a week without any mattress, blankets etc. I had to lie on concrete, enduring severe pain.
The conditions, transgressions and violations experienced on PCC Ad-Seg offenders are continually worsening and becoming more restrictive. As a result of this, about 15 prisoners decided to go on a hunger strike to protest too much abuse, neglect, sanitation issues etc. We've been on hunger strike since Oct. 13, going on a week as of this writing. We got prisoners to sign a petition in support of our cause. The following prisoners are the hunger strikers of Potosi. We strike in support of brothers out there in California and across the nation held captive in these SHU units and Ad-Seg units: Shyheim D. El-Mumin (509071), J.C. Bryant (1161135), Dorrian Perry (1077683), Barry Baker (1094541), Hashim Mohammad (1105506), James Poe (349575), Kyle Roberts (1173831), Anthony Hughs (115096) and Garry Mays (1130204).
We sent a copy of the petition to these people [the targets of the call-in campaign listed previously] as well as others. We're hoping to get their attention through the media as well. We have little to no grassroots movements advocating for prisoners' rights. We're hoping with a little push from the outside that something can be done soon. Prisoners have died in the past here at PCC attempting a hunger strike. These corrupt officers will try to do everything they can to undermine our strike. This is a peaceful demonstration. Several of us have chronic care issues. I'm diabetic and I have not taken my medication in over a week. I can't take it due to the fact I'm not eating. J.C. Bryant has high blood pressure. Their hunger strike policy doesn't have a set mandate that outlines the procedure when a patient who needs chronic care needs goes on hunger strike. We're supposed to be placed in the infirmary after 21 missed meals. We've missed that many or more, but staff are neglecting to mark down meds missed. We appreciate your help.