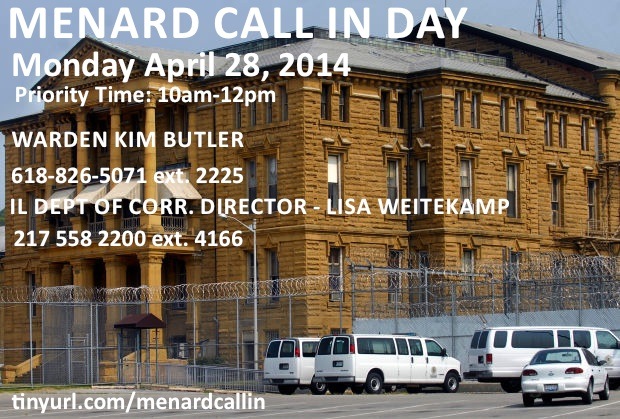 On this upcoming Monday, April 28th we are asking and encouraging people to participate in a Call-In Day in support of the prisoners in the High Security Unit at Menard Correctional Center in Illinois who are facing retaliation for engaging in a hunger strike in January. Prisoners there have been beaten by guards and metal boxes have been placed over their windows—preventing future engagement with noise demonstrations outside the prison, but also preventing sunlight from coming into their cells and increasing the sensory deprivation they experience in solitary confinement.
We hope that any pressure on the administration can draw attention to the inhumane treatment prisoners are forced to endure and help prisoners get their demands met.
We are trying to focus our calls between 10am and noon on Monday, April 28th: But calling at other times is also useful.
Warden Kim Butler  (New as of April 2014 and the first woman warden at Menard–a 20-year veteran of the Illinois Dept of Corrections).
618-826-5071 ext. 2225
Illinois Department of Corrections
Director Lisa Weitekamp
217-558-2200 x. 4166
CONTEXT FOR THE CALL-IN DAY
In January 15th, 2014, prisoners at Menard went on a hunger strike due to their placement and retention in severe isolation, under inhumane living conditions, without notice, reasons or hearing. The strike ended about a month later.
On Saturday, April 12th, maintenance workers drilled big metal boxes on the outside of the windows in the High Security Unit (HSU). Prisoners in the HSU can no longer see out the windows and barely any sunlight comes in. Prisoners were told by the guards, "How do you like your view now?" Prisoners think it is in retaliation for their hollering out to the protestors that marched outside the facility during the hunger strike.
On the same day, the Special Response Team was called into the HSU to do a cell shakedown and in the process beat and mistreated several prisoners, including Joseph Tillman #R40962, whose head was repeatedly slammed against a block wall.
SOME POINTS TO STRESS ON THE PHONE WHEN YOU CALL-IN:
Appalled at the recent installation of metal boxes covering prisoners windows in the High Security Unit. Remove the metal boxes on the windows immediately!
The conditions at Menard are deplorable and inhumane.
Let prisoners know why and for how long they are being held in isolation.
An immediate end to retaliation against hunger striking prisoners.
Ask for an update about the condition of Joseph Tillman #R40962 who was beaten during the cell shakedown on April 12th.
Here is the original list of demands. According to prisoners, conditions in the High Security Unit include:
severe isolation without any mental health evaluation or treatment;
uncleanliness, rodent infestation and lack of any cleaning supplies to clean cells – no disinfectants, no toilet brushes;
no written policies requiring the daily sweeping and mopping of the wings;
lack of heat in the cells and only one small, thin blanket;
showers are moldy and often cold;
no hot water in the cells to wash up or clean eating utensils;
unauthorized deviation from the statewide menu, low calorie intake has prisoners losing weight;
not issued individual coats, have to share smelly coats with numerous men;
access to their legal materials limited to approximately once a month, delays in receiving legal mail;
no educational opportunities even though non-disciplinary prisoners should have the same access to education as the general population.
Please call!
Please tell your friends!