#OCCUPYDENVER Sets Fire to Structures, Barricade Streets,Fight Police, 9 Arrests – From Ignite!
Last night, during police action taken to evict the Occupy Denver camp, protesters bravely faced down battalions of riot police. Structures built in the park were set alight, demonstrators fought police, threw barricades in the street, and staged raids on the dump trucks carting away their things. 9 arrests were made, 2 of which are felony arson cases. continue reading. video
St. Louis Police Murder Anthony Lamar Smith, Graffiti Threatens Police in Response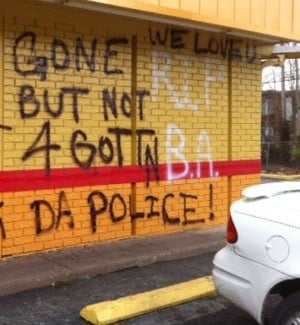 Tuesday night St. Louis Police killed a man they suspected of making a drug deal. His name was Anthony Smith, and although police say they saw him reaching for a gun and later say they found a revolver in his car, his family insists he wasn't dealing drugs, nor did he own a gun. Smith was killed after police opened fire on him, he sped away, crashed and was shot again.
By Wednesday morning the Church's Chicken, where the harrassment began, was covered in graffiti remembering Smith, but also threatening police. Graffiti included: "Gone But Not 4Gottn", "Fuck da Police", RIP B.A.", "YALL NEXT POLICE", "54 FINEST" and "We Love U".
After these threats Police Chief Dan Isom has ordered police to patrol in pairs. And in response to the shooting and graffiti, Mayor Francis Slay said, "Looks like the thugs are feeling the pressure."
In a city where police kill about a person a month, it will be interesting to see if this murder or others in the following year will lead to any sort of collective response from the city's dispossessed.
Apologetic, media coverage: KSDK, POST-DISPATCH